+ What is the Midtown Vision 2050 vision plan?
Midtown Vision 2050 is a bold and innovative plan that provides the overarching, coherent vision to guide and maximize growth and redevelopment in midtown Omaha for the next several decades.
The Midtown Vision 2050 vision plan builds on and seeks to accelerate the momentum seeded by the Destination Midtown initiative, construction of $365 million Midtown Crossing, UNMC's vertical growth, the re-emergence of the Blackstone District, and residential redevelopment spearheaded by companies such as Urban Village.
Midtown 2050 Corp., a not-for-profit Nebraska corporation, leads the vision implementation process and coordinates crucial public and private investment.
+ What are the Midtown Vision 2050 goals?
Midtown Vision 2050 goals include:
Developing new and strengthening existing neighborhood nodes that will revitalize neighborhood communities with attractive streetscapes and a broader mix of commercial, residential and public uses
Revitalizing and reprogramming public/green spaces to further enhance the quality of life in midtown
Continuing the implementation of Rapid Bus Transit and a modern streetcar to connect major destinations, catalyze new development and enhance walkability
Encouraging city reinvestment in midtown infrastructure and traffic flow modifications
+ What is the Midtown Vision 2050 vision plan?
Midtown Vision 2050's area of focus is defined as Center Street to the south, 48th St. to the west, Cuming Street to the north and 20th Street to the east.
+ What are some of the essential components of Midtown Vision 2050?
Multimodal Streets
Safe, low-speed streets
Pedestrian-first environment
Bicycling network
Strategic Parking Management
Shared parking district for off-street supply
Abundant on-street parking supply
Transit Strategy
Streetcar to facilitate walking and shape character
BRT for commuters
+ What is the potential economic impact of realizing Midtown Vision 2050?
Based on the recent work of experience urban planners, the impact of implementing the Midtown Vision 2050 plan (for five years following the initial streetcar and related restoration/development construction phase) is estimated to be an additional $8.7 billion in sales activity, boosting wages by $3.9 billion. This is estimated to contribute a minimum of $326 million to state and local tax collections for the five-year period. This compares to an estimated annually $6 million operating budget for the entire streetcar system over the same five-year period.
+ How could realizing Midtown Vision 2050 impact talent attraction?
The potential benefits of the Midtown Vision 2050 vision extend to increasing and in-migration of educated millennial's who disproportionately are moving into metropolitan areas that are walkable with green spaces and excellent public transportation. While millennials are returning to Midtown Crossing and the Blackstone District, opportunities are being missed. Midtown Vision 2050 is a unique opportunity to cultivate more robust interaction between younger residence and more established neighborhoods.
+ What impact will Midtown Vision 2050 have on residents of adjacent neighborhoods?
Access to the BRT, streetcar and other forms of multi-modal transit
Additional jobs that are centrally located and easy to access
As the area redevelops, more services for residents
Safer streets that are walkable and attractive
Increased funding for Omaha Public Schools to improve local schools and serve growing families
Attracts young families looking to purchase homes to historic neighborhoods
Retain talent and workforce that contribute to local economy for decades to come
Broader tax base to help pay for city-wide improvements and maintenance
+ Is Midtown Vision 2050 a streetcar initiative?
Midtown Vision 2050 aims to strengthen the urban core by encouraging smarter growth along major corridors. Midtown Vision 2050 is not dependent on a streetcar, but does recognize the streetcar as an economic development tool that will accelerate the pace of redevelopment in the urban core and will increase local tax collections that can be used to fund city-wide improvements.
Bus Rapid Transit (BRT) FAQs
+ What is the Bus Rapid Transit (BRT) and when is it scheduled to begin operating?
BRT utilizes many of the same streamlining features of a light rail system without the added cost of tracks in the ground. It can also be more easily expanded in the future through the creation of new lines or extensions. An investment of this magnitude in rapid transit infrastructure will be new and exciting for the Omaha community. Stations will be spaced farther apart and offer more amenities than conventional bus stops; traffic signal technology will prioritize transit vehicles at major intersections; and specialized vehicles departing every 10 minutes during rush hour will offer the highest level of transit service available in the region. Omaha's first BRT line is scheduled to begin service in late 2018.
+ What is the BRT route?
The BRT will have 25-27 stations along Dodge Street, as seen in the map.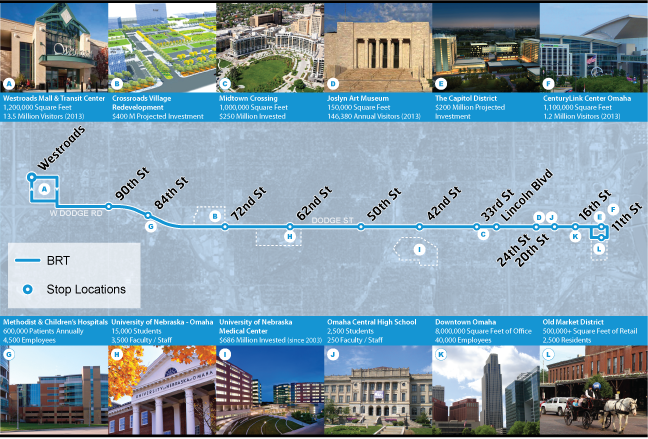 BRT will operate every day. It will run every 10 minutes during peak hours, every 15 minutes during off-peak periods, and every 20 minutes during the evenings.
+ What are some of the station amenities?
Near-level boarding – BRT station platforms will be designed to be the same height as the bus floor to reduce boarding and alighting delays.
Real Time Arrival Signs – Signs at each station will display the arrival time of the next BRT vehicle based on its GPS location.
Pre-payment of fares – BRT stations will be equipped with ticket vending machines, and we will also accept smart cards and mobile phone payments, enabling BRT passengers to board through any door.
Free Wi-fi – Wi-fi at each station will keep you connected while you wait.
Bicycle Amenities – Bike parking will be available at stations, or you can bring your bike onboard!
+ What are Streetcars?
Streetcar operates on tracks, typically mixed with automobile traffic, and can be powered by overhead power lines and/or battery. Streetcar stops every few blocks similar to local bus service, but has a greater ability to attract new riders and alter the surrounding land use.
Streetcars are passenger vehicles that operate on fixed-rail guideways on public streets. The vehicles can operate in shared traffic allowing for the preservation of the majority of on-street parking. The Streetcar vehicles feature low-floor boarding for easy wheelchair, stroller, bike and ADA accessibility. The low floors also make boarding faster and easier for everyone.
Make no mistake about it; Omaha's modern streetcars aren't "trolleys" — they are nothing like the noisy, bumpy vehicles of the last century. Today's modern streetcar vehicles are sleek, modern, smooth, quiet, efficient and comfortable.
+ What are some of the benefits of a streetcar?
Streetcars provide attractive short-trip urban circulation and help reshape public space. They connect key activity centers and parking, provide frequent service, have an easily understood route, and use quiet electric vehicles that fit well into an urban setting. As Omaha implements its downtown "park once" program, visitors and residents can leave their cars in one place and see and do more with the use of a convenient streetcar. Streetcars are also considered to be pedestrian accelerators, facilitating trips that are part walking, part streetcar. Streetcar systems are also special because they can bring investment and development near their routes and help attract workers, residents and visitors to an area.
Streetcar will:
Increase transit ridership within the corridor
Connect neighborhoods to downtown
Encourage redevelopment of underutilized parcels
Encourage reinvestment in neighborhoods
Stimulate an urban living environment
Attract a new rider market
Provide seamless connection to the existing transit network
Enhance mobility of employees, students, visitors and special event-goers in this area
Make better use of underutilized parking
Streetcar has the ability to strengthen the region's urban core by drawing in and serving more riders, strengthening and revitalizing existing neighborhoods, enhancing the unique character of the area and creating higher-density development in a way that bus cannot.
+ Can't a bus do the same thing?
In short, no. Buses provide critical daily transportation service to thousands of people in Omaha to access jobs, education, entertainment, shopping, health care and more. But bus routes can be changed, and this is a disadvantage for real estate investment and economic development compared to fixed-rail transit options, such as streetcars.
Streetcars offer permanence, which better guarantees to developers and the marketplace that the system will not move tomorrow. Therefore, cities across the country are seeing robust economic development and investment along fixed-rail transit lines. And, while streetcar systems do require an initial capital investment, operating a streetcar system is often less expensive per trip or passenger mile than traditional buses. This is true for many reasons, including that streetcars have a higher capacity than a bus and can move more people more efficiently with fewer vehicles, and because streetcar vehicles last many decades longer than buses, which are typically replaced every 15 years.
+ I don't live or work along the streetcar route. How does this benefit me?
A vibrant central business district benefits the entire region. It is a primary driving force for economic wealth in the region, with the region's highest volume of jobs, entertainment and destinations. The City expects the development of the streetcar to help expand the tax base and enhance downtown through new commercial and housing development, new and expanded businesses, and higher occupancy rates, which benefits the entire City. And many people who don't live or work downtown visit — for sporting events, restaurants, festivals and other activities. They'll likely use the streetcar, too, because it will be easy to come downtown, park your car once and then conveniently travel the area as you use the streetcar to hop from shopping to restaurants to theater or other entertainment. It will also support our thriving tourism and convention industry, directly connecting visitors and residents alike. The streetcar will add a distinctive element to our built environment, helping downtown stand out as the cultural and economic powerhouse that it's become over the past 20+ years.
+ How does Streetcar and the BRT fit into Omaha's Long Term Transit Vision?
Taken together, the Streetcar and the Dodge Street BRT represent our region's first steps toward a more robust system of transit service. It is anticipated that over the coming years we will see additional BRT and streetcar/light rail lines running north-south and east-west across the region, every new line bringing new value to those already in service. In this way, we will thoughtfully and incrementally build a productive network of high-capacity transit connecting people to the places they need to go. To accomplish this ambitious vision, cities will need to work with Metro Transit and MAPA to assess which bus or rail technologies are most appropriate for each corridor and align with the values of each community. Of course, any expansion plans will require detailed analysis to ensure financial and operational feasibility.